Awards
Have you seen a Popstars related site that you think deserves an award? Well fill out the form and nominate it by telling me the name of the site and the address!
THA WIN THIS: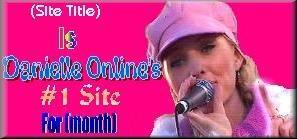 Click here to fill out the nomination form.
Rules
No porn/tasteless sites and they must be on Danielle Stearman OR a Popstars related site. You may not discriminate any other artists/bands, websites or people. Also the award must have a hyperlink to this site: URL = http://danielleonline.vze.com. If your site does not meet these rules, then I'm sorry but you may not enter.