Caption Competition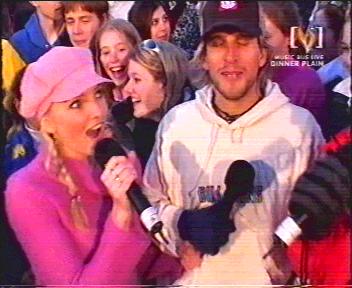 What's with Danielle's face? Why do you think the girls in the background are laughing? What do YOU think is happening? Well send your captions to me and the most creative, original and funny will have their name in the Hall of Fame!
Susan - Danielle: Oh Andrew look at that chick from the audience over there she's stripping away yuk!!!
Stacey - Danielle: mmmm this microphone looks so yummy . . . wot r u lookin at? im just eating it!!! The girls in the background: ha ha ha is she really eating her microphone??
Kelsey - Danielle: OMG! Wake up!! You're not meant to be sleeping! Other guy: noooo mummy, i dont wanna go to school...*zzzzzzzzzzz*
Example from Mel - Danielle: OH MY GOD LOOK ANDREW G! DENI HINES IS TURNING INTO A HORRIBLE MONSTER!!! AAAH.
Andrew G: No Danielle, I can't look its tooooo scary!
Click here to see some past caption comp winners